Circular design agency Wiithaa, becomes the strategy agency and design studio Circulab
· Wiithaa becomes Circulab ·
Make the notion of waste disappear
In 2012, the design agency Wiithaa was born, with a clear purpose: make the very notion of waste disappear.
The agency starts its activity working on upcycling with craftsmans and artists, before designing set designs and products for events. In 2014, Wiithaa finally helps its first client to make its business model evolves with the circular eocnomy principles. The design agency understand then that before upcycling waste there is something much more impactful to do: eco-designing business models.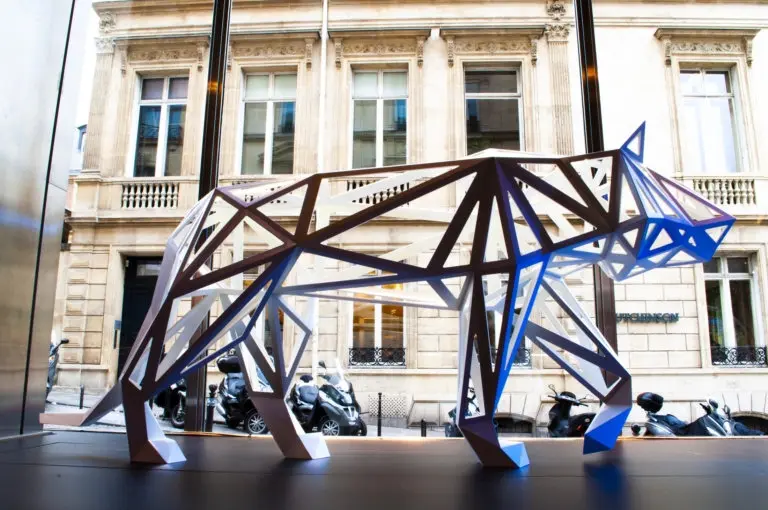 From that moment, Wiithaa had worked on helping companies and professionals designing products and services, integrated into their core business, without the notion of waste. In other words, Wiithaa were training teams, analysing business models and designing products and services considering the end of life of the materials, optimizing the different flows and valorizing the resources at each stage of the life cycle.
That is how Wiithaa became the first circular design agency, and started collaboration with major companies (L'Oreal, La Poste, IKEA, Suez, Plastic Omnium, Imerys to name but a few) and also with smaller, equally prestigious companies on this circular transformation that is essential to our civilisation.
However, the main point of differentiation of this french circular design agency wasn't only the way it approaches design - considering nature and circularity of resources - but mainly the methodology the agency developed to get its clients design their future products, services and business models.
Indeed, in 2014, while Wiithaa was working with its client (Holcim) on transforming its business model with the circular economy, the team developed a playful and team-focus methodology, based on tools and canvas, to involve not only their direct client, but also the teams.
This is how the Circular canvas was born and the first workshops facilited.
A method to design business models with the circular economy
In addition to the design services, Wiithaa was then also offering team-focus and playful workshops to its clients, thanks to easy-to-use and reusable tools such as the Circular canvas and "what if" cards.
Circulab became then the first method to design business models with the circular economy.
From 2014 to 2019, September, Circulab was a Wiithaa's brand and also the name of this methodology with some famous tools such as the Circular canvas or the Partner map, that were translated into 7 languages: french, english, spanish, chinese, italian, dutch and german.
Circulab methodology and business games were then a first-step in the design process, to enable the client co-create its solutions and specify it with a systemic approach.
That is one of the reason Wiithaa and the team at that time, won a "Janus de l'Industrie", a french design label, for its business game Circulab, in the category "integrated design".
A network of certified consultants
In order to improve the impacts of the methodology, Wiithaa decided to train partners to the tools and the workshop facilitation so that they can promote Circulab, collaborate but also animate their own workshops. Thus in September 2015, they trained 6 independent consultants to the Circulab business game and launched the Circulab network.
Today, more than 60 independent consultants have been trained to the Circulab methodogy and tools and are offering services using and applying that toolbox.
A shift, for more impacts and collaboration
After 5 years of activity, juggling between design services and strategy workshop, Justine Laurent (managing director) and Brieuc Saffré (co-founder and CEO) decided to value these assets - services, network and tools - and finally decided to join Wiithaa and Circulab under one unique mission and agency.
That is why in September 2019, Wiithaa and Circulab were joined under the name Circulab.
Design for regeneration
Even if the soul of Wiithaa and the story of that amazing bird are still part of Circulab's DNA, Brieuc Saffré and Justine Laurent, current directors, have decided to upgrade and refresh their manifesto and message.
From now, Circulab is a strategy agency and design studio that aims to enable and activate the regeneration of ecosystems. Circulab's approach is based not only on circular design and biomimicry, but also on collaboration and partnerships.
Strategy agency and design studio; what does it mean?
80% of the impacts or cost of a product/service, are defined at the design stage
At Circulab their purpose is to design for regeneration. In other words, they try to identify the best scenario of product, process or services for their clients, and the business models associated, to ensure that the activity will generate positive impacts on natural and human ecosystems. And to make that happen, we may integrate a systemic approach of design but also apply the main principles and philosophy of the circular economy.
To make the change comes true, the agency acts at different levels:
Train the teams and stakeholders to the circular design and regenerative business models
Help the teams and managers identifying their next challenges regarding competition, pressure on resources and final users needs
Get the teams understand and identify what they have to develop to take action - from the product design to the new partnerships
Design and test the solution to validate the desirability, viability and circularity, and deliver the final brief for the implementation
And as Circulab wants its client autonomous and proactive, and its services to be well fit to the real needs, this agency of a new kind has its own modus operandi.
Circulab toolbox: easy and reusable tools to learn, explore, map, create and start projects with the circular economy
Circulab community: a community of more than 60 certified consultants, agencies, companies and universities that share their knowlege and practice, use and apply the Circulab toolbox and join their forces to answer client's needs with a local and expert anchoring
Circulab actions: on-demand and tailored services to get the best from stakeholders, from market analysis to short-cut design process.
And to testify of Circulab's impacts and actions for the environment and society, the agency has been certified B Corp in late September.
To conclude, Circulab has just opened a new door and gathered all its forces to lead concrete actions to reverse climate change and loss of biodiversity, and regenerate human and natural ecosystems and capital.