The challenges of bulk sales after the Covid-19 crisis
· Why are bulk sales stay a promising distribution format for the future ? ·
Article offered by the Packaging-Free Network (Réseau Vrac), the inter-professional association for the development of packaging-free retail.
What future for the bulk sales1 sector?
A legitimate question to ask after 3 years of  COVID-19 pandemic during which consumers habits changed and inflation took hold, pushing consumers to re-consider the costs of their purchases.
Almost only available in specialists shops before 2016, bulk is nowadays distributed in more than 10 000 points of sales on the French territory. France is the European leader in developing and deploying bulk sales, with more than 960 specialized grocery shops and 70% of large and medium-sized stores offering it. Selling in bulk can be either for food or non-food products, and in solid or liquid formats. More than 10 categories of products are being sold in bulk, from salty and sweet groceries to cosmetics, cleaning products, including pet and gardening products.
In terms of consumers, 31% of French households declare to have bought in bulk in 2021, and 45% buy in bulk at least once a month2. This means that 4 millions french households are regular bulk consumers.
In full expansion until 2020, the sector finds itself impacted by consecutive crisis. However, bulk is an optimal solution to control your budget while limiting your use of plastic packaging and food waste.
In this article, we will decode the future challenges of this emerging sector, which is proving resilient and continues to propose a diversified offer of responsible products.
1Bulk sales are defined as "the sale to the consumer of products presented without packaging, in quantities chosen by the consumer, in re-usable or reusable containers"
2 Etude Nielsen 2021 for Réseau Vrac
Definition: Bulk sales are defined as "the sale to the consumer of products presented without packaging, in quantities chosen by the consumer, in re-usable or reusable containers".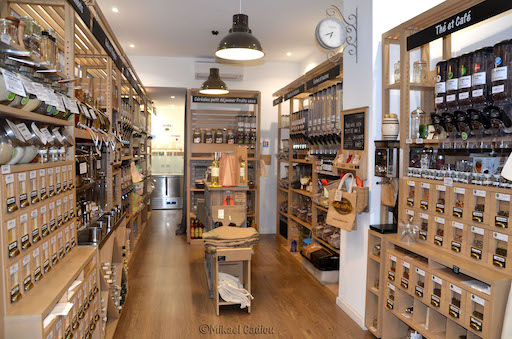 1. A context of multiple crisis which impact the bulk sales sector
Worth less than 15 millions euros in 2015, the bulk market explosed and reached in 2019 a value of 1.2 billion euros. In parallel, the number of specialised shops opening went drastically up, with more that 166 new bulk sales shops in 2020, just before the beginning of the pandemic.
However, the COVID-19 crisis saw some habits change (more online purchases, less daily work-home trips..) and impacted negatively the sector, from may 2021 (end of the 3rd lockdown, reopening of bars and restaurants after 8 months of temporary closing).
Celia Rennesson, Executive Director of the association Réseau Vrac (Packaging-Free Network) says :

"We have to get inside the head of the consumer. During lockdown, the only pleasure allowed was to do groceries. After, the french citizens prefered to focus on other things. We are going through an anxiogen context where they have the impression that they don't have time anymore."3
An inflationary context for the bulk sector and more generally for distribution
In 2022, the bulk sales market was in decline and ended up at its 2018 value, approximately 850 millions euros. In addition to having their habits shaken up, inflation touches the country and impacts economically the households, who have to make choices in term of consumption, sometimes at the price of the groceries basket.
The difficulties of the bulk sales sector are parts of a more global trend of diminution of physical attendance in the retail sector: in January 2022, the attendance in shops had decreased by 28% compared to January 2019 4. It also impacts the organic sector, where sells went down by 6.3% between January and September 2022 5, and with more than 165 organic shops closing this year 6 .
3 Quotes from « Parole d'experte, « En Choisissant la quantité, on maîtrise son budget » dans Le Parisien, 21 décembre 2022
4 Numbers from « Commerce : baisse de fréquentation durable dans les magasins » de Philippe Bertrand dans Les Echos Entrepreneurs, 5 février 2022
5 Numbers from la Fédération Nationale d'Agriculture Biologique (FNAB)
6 Numbers from « Regards d'experts : les ouvertures et fermetures de magasins bio à la loupe » de Fabien Foulon, Biolinéaires, 23 octobre 2022
2. Bulk as a future-fit solution
Even with this unfavorable economic context, the market shows signs of resilience with the return of clients in shops. Bulk sales are, more than ever, a distribution channel for the future due to its numerous advantages for consumers' purchasing power and climate change mitigation
Regulations and public policies in favor of bulk sales
The French state supports bulk sales with the laws "Anti food waste for a circular economy" in 2020 and "Climate and resilience"7 in 2021. The first allows to define officially bulk sales in the law (a first worldwhile) and states the possibility of the consumer to be served in its own container. The second one states in its 11th article that shops mesuring more than 400m2 need to dedicate at least 20% of their surface to products sold in bulk before the 1st of January 2030, which encourages the development of the offer.
In Italy, the Italian Minister of the ecological transition published in October 2021 a decree which plans an help of 5000€ to develop bulk in shops. This subsidy can be asked either by shops owners who wish to open a bulk section or by individuals who wish to open a specialized bulk shop. The total amount invested by the Italian government is fixed to 20 million euros each year.
Professionals innovate to answer the obstacles of consumption in bulk

Curently, the principal barrier to buying in bulk stated by the consumer are the price for 37%, followed by hygiene (29%), as well as the practicity and the missing information on the products (28%) 8 .
However, bulk professionals are not lacking in resources and creativity to make bulk more attractive and remove these obstacles.
This is the case, for example, with the distribution units that allow liquid products to be delivered, such as Jean Bouteille or Cozie. Progress has also been made in the development of reusable containers for the consumer, with FillGood for example, which offers reusable bags with a zip fastener and a measuring spout. To meet the demand for product information and traceability, mobile applications such as Vracoop or Packtic have been developed based on the use of QR codes.
Since 2016, more than 13 million euros have been invested in research and development in the bulk sector.
Due to its nature and philosophy, which are completely different from the pre-packaged model, bulk presents a formidable field of innovation for professionals and an opportunity to be part of the pioneers of a new imagination.
Bulk, one of the solutions to the environmental and purchasing power crisis
Finally, bulk consumption offers obvious answers to current issues:
Bulk allows you to save money through the choice of the right quantity: by buying in bulk, as a consumer you pay by the gram because no quantity is imposed, and therefore allows you to control your purchasing power (no need to choose to buy this product rather than another: through small quantities it is still possible to buy a little of everything thanks to bulk).
The reuse of containers makes it possible to overcome the scarcity of packaging materials,
Bulk also has multiple environmental benefits: not only does it reduce waste, but also CO2 emissions and water consumption, which contributes to the preservation of resources and our planet. Indeed, every year, 29kg of food per person is thrown away, of which 7kg is still packaged. By controlling the quantity of food purchased, bulk packaging helps to reduce this food waste.
It also reduces consumer packaging by up to 95% and reduces CO2 emissions by up to 48%9.
7 Passed the
 

10th of February 2020 and 22nd August 2021
8 PanelViews, December 2019 Nielsen for Réseau Vrac
9Numbers from « Le plastique, ça n'emballe plus ? », 2020, WWF
Let's conclude  
Despite a post-covid-19 economic context marked by a drop in purchasing power and changes in consumption habits, bulk food remains an innovative sector of the future, which offers solutions for saving money and reducing environmental impacts.
For companies, it is a new sector with plenty of opportunities to rethink the experience in shops, the story telling around products and value the quality of the products.
In order to promote all these benefits, and to remind how bulk is part of the future, Packaging-Free Network has launched its second edition of the "Bulk Month" during the whole month of March (31 days to (re)discover bulk). All professionals (brands or distributors) who offer bulk are invited to organise events during this time and to promote their bulk department. All information (only in French at the moment): here
Chloé Liard et Lucie Gervais, from the Packaging-Free Network
Interested to learn about sell in bulk regulations, events and tips?