Territorial resilience is a matter of genuine collaborations
· Systems thinking in action at Waves of Change Forum in Biarritz  ·
*This article is authored by Nico Occhiminuti, Circulab Community member since 2020 and cofounder of Waves of Change since 2019***
In this article, my goal is to illustrate for you with the example of Waves of Change in Biarritz how one can apply some circular economy principles to a local territory with an objective to build resilience.
Waves of Change is not a circular project in and of itself. Nor is it an initiative or business practice specifically promoting circular economy. In fact to me it simply complements circular practices in many ways.
At the beginning: a forum like no other
Waves of Change is a registered non-profit. Its mission is to address SDG #17 (aka Partnerships for the Goals). This may be the least tangible and hence most challenging and least popular SDG to pursue. Nonetheless, it still has to be addressed and so my cofounders Danielle, Minh, Patrick and I decided to go for it back in 2019.
Starting a physical event mixing ocean- and land-related environmental topics right as Covid was about to hit is definitely a way to get noticed in a place like Biarritz, France.
Everywhere across the world many professional events - be they about impact or impact-oriented - very often end up becoming like traditional trade shows with only an impact twist. In other words, they remain transactional spaces, necessary to gather ecosystems, but all too often ending up in expected ways: large crowds, business meetings, business leads, business cards, announcements, press releases, press coverage, fear of missing out and in the end... business as usual.
Headquartered in Biarritz and close to green and blue natural elements, Waves of Change has always aimed to differ from the start. What would have been considered a business risk, had we been a business, happened to be nothing but a genuine manifesto and "raison d'être" as an NGO.
Seeing business as a force for change, our annual forum was designed as an instrument for 'business beyond usual', where businesses gather to collaborate instead of competing. They collaborate with other businesses as well as impact startups, impact investors but also NGOs, local governments and scientific organizations.
Not only has this ecosystemic approach quickly been noticed as unusual and bold by local stakeholders, who joined curiously at our first physical event at a time when every event was going virtual due to Covid. But it was also very soon supported and encouraged by our City Hall as well as our Region. Why? I want to believe that what they  supported was the common interest of our territory served by an ambitious team of ecosystemic value-driven volunteers. Yes, local governments officials don't get to see this so often.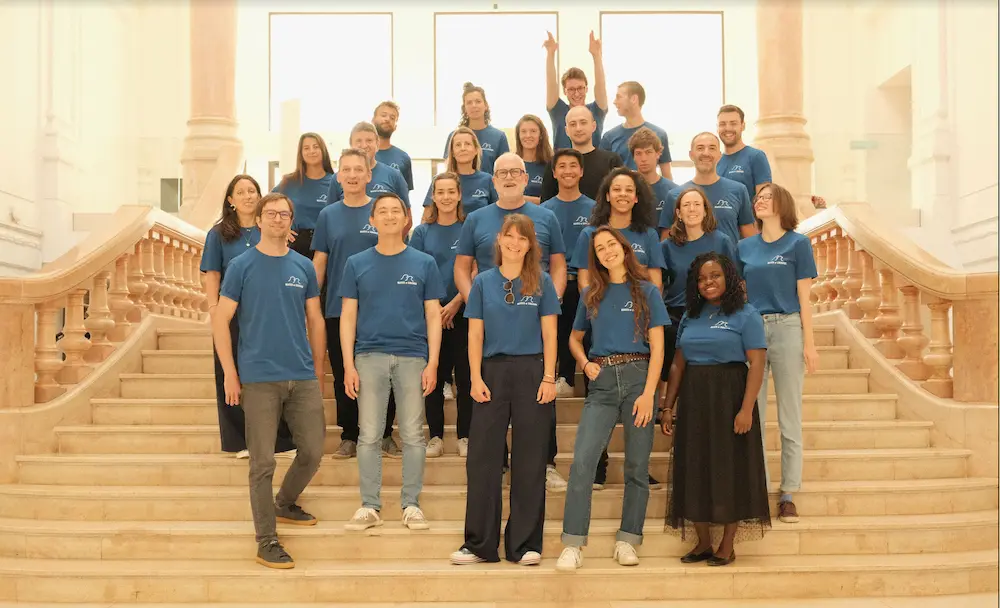 An invincible network of volunteers
Most investors will tell you they look carefully at the team before deciding to invest or not in a project or company. Many aspects make the  Waves of Change team quite strong: its intrinsic diversity, its shared values, its rituals, common history and more... But just like the Circulab Community, I believe that  its main strength is that it is not bound by a working contract and monthly paycheck but rather connected by core beliefs.
In our case, the Waves of Change Team is driven by an unparalleled sense of superior, common interest and eagerness to serve it. We all acknowledge that we are part of a natural system, which we would rather serve than any economic entity or  interest. The ocean and nature surrounding us are a big influencer and driver in that sense.
I believe the public sector and local governments have perceived this and likely associated it with local, territorial interest alignment on top of more rational, traditional selling points. Of course passion also is contagious at some point and we believe that our role will increasingly be to regenerate passion and purpose among organizations.
Connecting with other territories
Our human-centered approach actually very much emulates nature in that it relates on ecosystemic relationships and dependancies, which we have acknowledged from the start. Likewise, our action has never happened in silos but rather aimed to branch out and develop additional connections with different territories to learn from and join forces with.
This is what our region, Région Nouvelle Aquitaine, has specifically been supporting, as we have been building bridges during and beyond our events with international territories and municipalities over the years such as Santa Cruz, CA, Salvador de Bahia, Antwerpen, Sausalito, CA, Pondicherry, Tangier, Senegal, Singapore and more.
As a result for instance we got our City of Biarritz sign a Memorandum of Understanding to collaborate with the Prefeitura de Salvador de Bahia on coastal resilience and sustainable tourism  matters in the coming years. Similarly Santa Cruz, CA and Biarritz will become sister cities around a coastal resilience focus.
In these international connections everyone wins as everyone gets to learn from each other to accelerate their understanding of global phenomenons, inspiration from different perspectives and answers to similar challenges, etc.
Of course along come business opportunities. And often these are new types of unexpected, beyond usual opportunities with which also comes cultural learning. All this process I believe is also a long-term investment in better inhabiting our planet by slow connection, as opposed to the fast connection provided by mass and social medias.
A German-Basque artistic collaboration between Nina Rossiter and François Jaubert, which we made happen during our 2021 Forum. The algae based paint was provided by our startup label recipient Algopaint.
Making ecosystemic thinking + doing a reality
Here are two examples of how we try in our own way to influence ecosystemic action to happen:
1) The Ocean Rendez-Vous in the City of Biarritz
Since the beginning we always thought we needed to be true to our words and that actions spoke louder than words. And by saying  "let's apply what we preach" we decided to collaborate with fellow NGOs also organizing events in Biarritz to promote ocean preservation, environmental literacy, etc. This is how we started mutualizing resources and efforts with Love is Blue Festival, an ocean festival for the Basque public and soon together initiate the Biarritz Ocean Rendez-Vous: a full week dedicated to the ocean and coastal ecosystems, centered around International World Ocean Day on June 8 every year.
Adopted by the City of Biarritz, the Biarritz Rendez-Vous Océan is now a full week of BtoB and BtoC events co-organized with Waves of  Change, Water Family, Surfrider Foundation Europe, Agir à la Source, Océan Sans Frontières, Love is Blue, etc. and supervized by the City Hall for the benefit of all stakeholders and citizens on top of the biosphere.
2) The Tideline label, event series and startup challenge.
With the current trend on green tech, clean tech and ocean tech startups coming up everyday with new solutions to tackle a variety of environmental issues, we knew we had to take them into account in a smarter way than just "feature them".
Also we quickly realized that certain types of startups could have real impact by serving a cause, while others were more using the cause to serve their commercial interests. Willing to encourage the first ones rather than the latter and aware of their vulnerability, we decided along with the French Public Investment Bank Bpifrance to create a label that would reward not technology or financial performance like many other labels do but a collaboration potential.
Because in an ecosystemic perspective, we think the most collaborative agents are the most contributing and thus should be encouraged and supported. For the investment community this also seems to make sense as we have been able to illustrate how being collaborative fosters resilience, which in investors langage means a greater capacity to seize new, out of the box opportunities, to pivot faster, be more relevant and 'scale' impact.
In the same spirit we then created a Tideline ecosystem event series in Paris and also Tideline Startup Challenge, where essentially everyone wins by collaborating and creating new opportunities for everyone.
Blending Innovation with Preservation to evolve the system towards actual transition
At this point I imagine what may cross your mind: Yes indeed, I too don't believe in innovation to solve environmental challenges. This is agreed that
responsible and mindful innovation can only be one part in a more global solution, where the current inherited system has reached its limits as well as our planetary boundaries.
Acknowledging this we at Waves of Change advocate for a blend of innovation and preservation. Because you cannot stop the Waves (of innovation as well as external macro trends) but you can learn to surf them! So at our level we make sure innovation and preservation can meet to ideally join forces.
A good example in the making is how we have leveraged our upcoming forum to also bring together local stakeholders and inspiring ones from other territories to boost reflection on setting up a marine protected area or an effective form of collaboration towards preserving a shared marine resource off the Basque Coast.
Another example is a "Wave" on which innovation and preservation stakeholders join together in aiming to better prevent wildfires based on all the ecosystemic benefits provided by forests.
Likewise our Changing Finance to Finance Change Wave is a concrete attempt at creating a local scientific interest group to work on better valuing natural capital in order to better fund its preservation.
Interestingly this one has been initiated by one of the Tideline Startup Label recipients, Arbisanat, which is a startup restoring natural ecosystems in urban area thanks to microforests plantation.
Thinking macro, acting micro
As powering territorial resilience is very much about building bridges, in our case we also bridge macro and micro perspectives. Why? Because again here both challenges and solutions are pointing at it: most local challenges indeed in fact have global origins, and likewise local solutions need to take these macro trends into account as much as they desserve global exposure to be emulated or scaled elsewhere.
A group of national and international Waves of Change participants at the Port of Bayonne, France in 2022.
Theory may be super clear, achieving it in practice is another thing.
Concretely, very different stakeholders usually tackle the macro and micro aspects, and the reason why they don't talk so  much to each other is in fact desperately simple: they oftentime don't speak the same language.
Think a small supplier talking to a big group, a startup talking to an multinational bank, etc: What metrics, objectives, KPIs, culture, etc (you name it) do they have concretely in common?
Here again, we found out in practice that to be able to collaborate, these stakeholders need translators in the first place. This is also part of our role here with Waves of Change to translate not just from English to French and vice versa, but also from Macro to Micro and vice versa, between perspective and action.
Just like we will be debriefing at our upcoming forum the Paris UNEP Plastic Negotiations, while taking part in a local beach cleanup initiative with other local stakeholders and our City of Biarritz just before!
In these lines my goal has been to look back at a collective territorial project I am part of through the lenses of holistic thinking and systemic appproach. No easy exercise I must confess. If you have questions or comments, do feel free to share them as I don't believe in growing alone nor in siloed thinking!
Interested to learn more about territory resilience? Discover the serious game developed by Circulab and DiCi Design (in French for now)