· Interview with Marc-André Allard and Marina Mariani, Lonsdale ·
Leading branding and design agency in France, Lonsdale has 200 talents, including 120 designers and architects, and proudly displays its social and environmental commitments. A member of the UN Global Compact, the agency aims to limit its own impacts and supports its clients in improving their brand communication practices and channels – particularly through responsible IT and circular design.
Marc-André Allard, Director of Innovation and Business Design at Lonsdale, and Marina Mariani, Account Director, have been certified since 2020 to deploy Circulab's regenerative design tools and method.
We sat down with both of them to better understand how circular design can contribute to building a coherent, efficient and sustainable brand.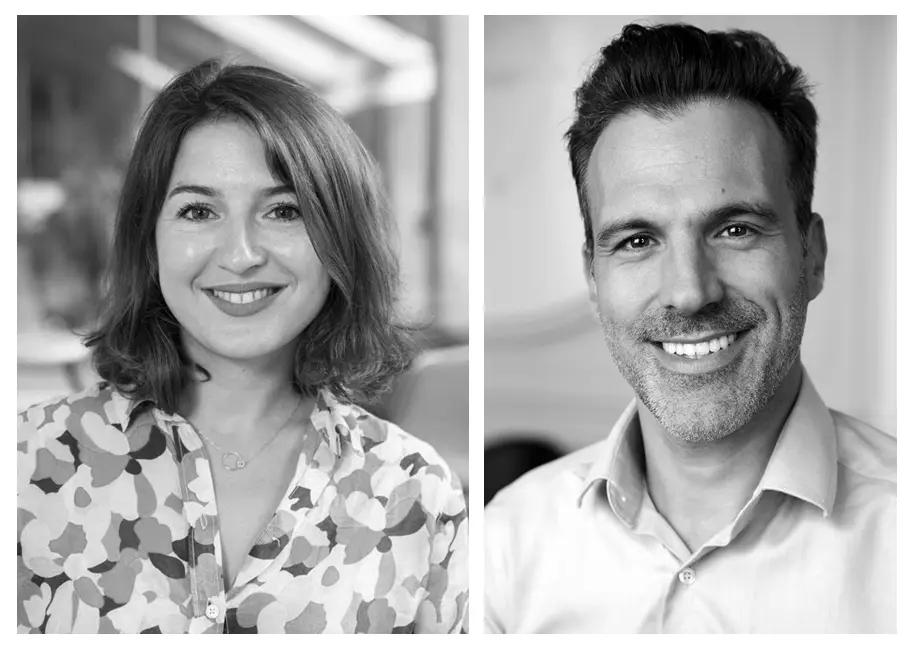 Hello Marc-André and Marina, could you please introduce yourself in a few words?
Marina: Hello, my name is Marina and I am 37 years old. I have nearly 13 years of experience in strategic marketing, innovation and branding for French and international brands in all sectors. I started my career in a consulting firm specialised in qualitative market research and strategic planning before joining the world of design agencies where I lead innovation support projects with methods such as design thinking and circular design. I have been teaching at CELSA since 2021 on issues linking design, innovation, branding with a strong focus on impact topics.
Marc-André: To put it simply, I have worked for the past 20 years half in studies and consulting, and half in design and innovation. My red thread is the notion of "creation of value(s)": for business, brands, individuals, society and the environment at large. I explore this subject in all possible ways: by setting up expert teams within consulting firms and agencies, by teaching at SciencesPo, CELSA and ISCOM, or by investing and personally accompanying startups in various universes (tech, services, BtoB, BtoC, etc.).
Could you tell us more about Lonsdale and what differentiates the agency on the market in your opinion?
Lonsdale is a leading independent French design and branding agency. Strategy, innovation and business design are really at the heart of its model with nearly 15 people dedicated to these upstream consulting activities.
With nearly 200 employees, the agency is a pool of experts at the service of brands. Their common objective is to ensure their sustainability and competitiveness by ensuring the consistency between their assets and identity components.
Finally, if Lonsdale is indeed a French agency, it is also resolutely turned towards the international dimension via its partner agencies Cowan and CBX respectively based in Asia and on the American continent.
We are living in an era of accelerated and simultaneous transformations for companies and consumers alike: the increasing awareness of global warming, digital and social changes which in turn lead to multiple structural and societal transformations. What do you think is the role of brands in this context?
Brands contribute to structure the world in which we live. At a time when institutions and authority figures are sometimes undermined, brands embody powerful and inspiring cultural landmarks for citizen consumers. They create meaning, have the power to federate around them and therefore to move the lines.
Brands also have a significant advantage in our world dominated by hypercommunication. They are at the heart of conversations and know how to maximize their impact on audiences. Their capacity for action to change society and habits is therefore substantial, especially when we no longer consider only commercial brands but also corporate brands.
We hear a lot about greenwashing. How do you define responsible communication and what do you think are the pitfalls for brands to avoid?
A brand that communicates responsibly must above all make its words and actions consistent, without concealing, without omitting, in total transparency.
The communicative dimension of the brand should not take precedence over the tangible reality of its commitment.
However, faced with the growing demands of consumers, some brands practice storytelling excessively and over-invest in a discourse of self-performative commitment that is inconsistent with the reality of their model.
In March 2022, three NGOs for example denounced the communication campaign that accompanied the change of name of Total to TotalEnergies in 2021. The energy company then defined itself as a "major player in the energy transition" while fossil fuels represent still 90% of its activity and 80% of its investments.
At Lonsdale, this is precisely what we want to avoid and this is why the innovation division has given itself the means to get into the reality of brands – to understand the reality of their offers, their production models, their business models. Identify their strengths and limitations so as not to work above ground. For us, this is the main pitfall to avoid.
How did you learn about Circulab and what motivated you to get certified to use the Circulab method and tools?
Marina: After two years of developing the innovation and design-thinking division, Marc-André and I wanted to bring a new dimension to our approach – we wanted to place impact issues at the heart of our model and respond to new needs and requests from our customers, whose briefs focused on sustainable development were ever more numerous. It was at this time that I proposed to Marc-André to join the Circulab community. I knew Brieuc. He had already made me aware of his method and I was seduced by the holistic dimension of his approach.
Marc-André: When Marina introduced me to the Circulab approach, I was looking for "after design thinking". How can we create responsible value, freeing ourselves from gadget innovation and hyperconsumerist models whose design thinking unfortunately does not systematically protect us? I quickly understood that the Circulab approach could perfectly meet this need. Its thinking software was in line with the continuity of our approach, while updating it around impact topics.
What does a branding or innovation consulting project with the circular design method look like? Can you give us examples of projects where you have been able to implement circular design and/or the Circulab method?
Circulab tools fit perfectly into our project models whether they are branding, innovation or both! The sequencing of a project in circular design is very similar to the one we have always practiced. Above all, the Circulab approach allows us to reinforce our activity with solid tools in terms of impact, whether in the exploration, diagnosis or ideation phases.
At Lonsdale, we are also committed to  articulating circular design and branding. At the crossroads of these two areas of expertise – the brand's mission/purpose constitutes a nerve center which must be based on the vision of the brand and the reality of its tangible universes.
A project carried out this year for the Pom'Potes brand clearly reflects the way in which we combine innovation, branding and circular design for our customers. We accompanied them at the beginning of 2022 on the repositioning of their organic offer. The objective – to build a credible brand message reflecting a sincere and coherent commitment that they will be able to hold and wear proudly without the risk of disappointing their target audience.
What are your ambitions as members of the Circulab community?
We are committed to being as contributory as the independent consultants in the community.
We bring a large account vision that raises questions which are different from the work that is done with SMEs and VSEs or local authorities.
The community is for us a great pool of experts that we can activate as needed according to the areas of expertise that are necessary for our projects. Expertise that is sometimes more technical or complementary to ours.